"Quintet"
Movement of Material
On Thursday May 13 from 7:30 p.m., we open the door for you to enjoy the exhibition "Quintet" interpreted by five artists: Sandra Krysiak, Mercedes R. Elvira, Thomas Benech, Carlos Balbás and Eloy Tolosa Carrion, with their own "instruments".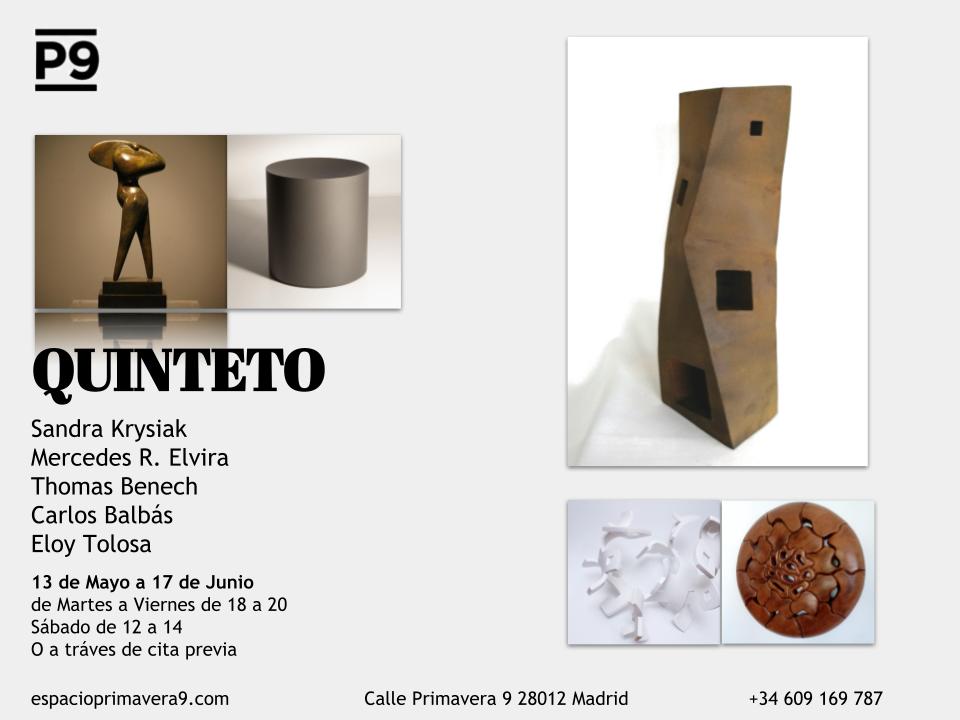 The five artists used their materials and familiar expressions to present highlights from this "concert." The collision and communication between various materials and geometric shapes make inspiration explode and thoughts fly.
[Wood]Sandra Krysiak: Her work of sculptures, reliefs and ornamental carvings with fine woods based on knowing the different types of fibers, cuts, polishes and finishes of wood, and unraveling and discovering their knots, colors, veins, textures and aroma. That focuses on the release of emotions and the production of a feeling of satisfaction. It is a complete knowledge and use of wood.
[Bronze]Mercedes R. Elvira : It combines sacrificial dolls of primitive human art and decorative art, depicting different shapes of the human body with smooth curved surfaces and arbitrary curves. There is relaxation and tension, both rough and delicate.
[Ceramic – Solid Surface]Thomas Benech: In this exhibition Thomas presents abstract sculptures inspired at the same time by geometry, architecture and neuroscience made in different materials, such as ceramic, polyurethane and solid surface. He seeks to bend and twist the monotony of the straight line with a symbolic emotional charge, where balance and openings direct his creative thinking, through which he invites to penetrate the poetry of his work.
[Steel]Carlos Balbás: Carlos's works in this exhibition use the most basic geometric shapes, combined with light and shadow effects, and detailed and subtle renderings to present beauty and existence beyond conventional cognition.
[Corten Steel]Eloy Tolosa Carrion: All the pieces have arisen from a common basic idea starting from the slicing of a cube, which Eloy has been developing with minimalist premises and fleeing from static symmetries, creating a universe of very compact shapes that at the same time suggest and awaken unconventional spaces. The works are structured by a very linear and defined architecture with very marked edges "cutting" the space in a great diversity of planes, using the minimum elements. In a global vision, there is a pattern that unifies and confers its imprint on all the works creating that halo that brings them together due to its same constructive philosophy.
The gallery Space Spring 9 (P9) dedicate in sculpture. Locate in calle Primavera 9, Lavapiés. Led by Marian Rodríguez, with the architect and sculptor Pablo Redondo (Odnoder).
The exhibition will be till June, 17, and our opening time is:
From Thuesday to Friday 18h00-20h00
Saturday 12h00-14h00.
Or making an appointment by tel. 609 169 787 and taking adequate hygiene precautions.